What's RED & GREEN &

Eaten All Over New Mexico?

If you said, Chilis, NOT THIS TIME!

Raw NEW MEXICAN SAUERKRAUT! That's Right!

RAW Sauerkraut is a super food and is loaded with:
Enzymes Vitamins Minerals Trace minerals Beneficial flora/friendly bacteria
Regular consumption of these fermented or cultured vegetables also provides the body with hydrochloric acid and enzymes that are killed by pasteurization.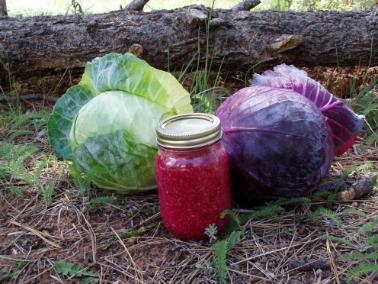 Benefits of eating RAW Sauerkraut:
Helps re-establish your inner ecosystem Improves digestion
The enzymes in the cultured vegetables also help you digest other foods that are eaten with them
Increased longevity

Control of cravings
Ideal for pregnant women and nursing mothers
Raw cultured vegetables like sauerkraut are cleansing and balance the PH of the body
Calming to the nervous system
Improve sleep
Stimulate peristalsis (bowel movement)
Lowered blood pressure
Strengthens the heart

Oh, yeah…..and it tastes great!